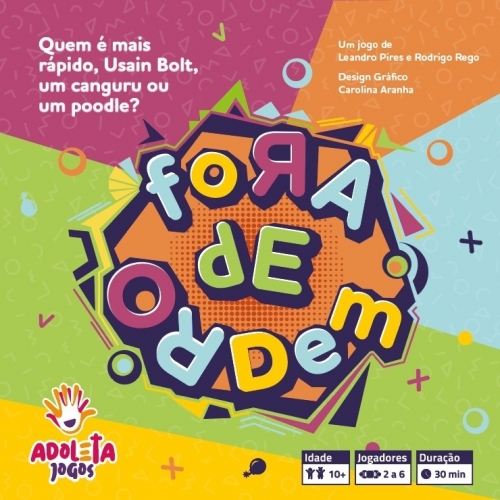 Fora de Ordem / Out of Order Adoleta Jogos - 2023
Co-designed with Leandro Pires
Who's faster, a kangaroo, a poodle, or Usain Bolt? In Out of Order, in every round there's a category with 5 items for players to guess the order. Place a card numbered from 1 to 5 in an item to guess its rank.
It's ok to copy someone else's guess, but be careful, as the last person to guess wrong on each item will take all cards there as negative points.
Out of Order is another game born out of Leandro and mine's common passion for trivia. That's a criminally underrepresented category among modern games, but that can offer a lot more variation than the usual Trivial Pursuit fare.
As I try to do in all trivia games, there are more layers in Out of Order besides just knowing the answers. Lots of push-your-luck and hand management make this the most gamer of my trivia games.